Web Design | Leicester
Web Design | Leicester
The layout of a website is one of the key influences when building a brand online. Trisec develops websites using advanced modeling methods, which tends to influence conversions and gradually improves the user experience of potential customers. We aspire to differentiate you from your rivals and help you achieve the best impression from your customers, which in return will boost your ROI.
Our Packages
Different types of websites require different designs i.e there's a different approach to designing an Amazon affiliate site than a simple one-page company website. At Trisec, we are experts in developing niche-oriented designs, so neat and beautiful that users find no hindrance in accessing the required information. Here are the types of websites that we design under different packages: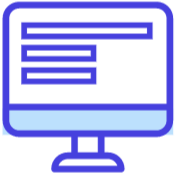 Pro Package
(for large-scale websites)
Affiliate Package
(for Amazon affiliate sites)
eCommerce Package
(for online shopping sites)
Lite Package
(for a small 8-10 pages website with a few blog posts)
Micro Package
(for a small 2-4 pages company website)
---
OUR WORKING METHODOLOGY
1
After having a good understanding of your company, market position, and priorities, we describe your site layout and user journey mapping using wireframes. During this process, the most significant decisions are taken to ensure that the needs of your users are addressed on every page of the site.
2
On acceptance we build on the wireframe and supply a graphical representation and actual data, utilizing color palettes to bring the design to life. We work with current or established Branding Standards to bring our vision to you whilst encouraging you to control and assist the design process.
3
Our design and development departments handle the project development carefully. We will develop your project to follow the highest standard of design requirements and optimize until it is passed over to the QA team for sign-off before final production!
Features
What you get with any of our web design packages…
Responsive Design
We design your website to show up perfectly on all types of operating systems, browsers, screen sizes, and devices. Our web designers know the art of designing codes that does not conflict with any device or OS.
Copyright-Free Work
We sketch website designs from scratch and never ever copy code from pre-available templates. Plus, any images or symbols proposed for the site's design are copyright-free and mostly developed by our HTML & CSS experts.
Proper Placements
We ensure proper placements of call-to-action buttons to gain the maximum user attraction leading to sales. The placement of any of these key elements is done with immense attention-to-detail and we ensure compatibility across different devices.
Unique Bespoke Design
Your personalized design would be exclusive to you and the nature of your company. It would be in line with your visitors and those awesome visuals will add to the user-friendliness. Those messy, slow-loading codes are never used.
Unlimited Revisions
We allow customers unrestricted revisions before the site is coded. as long as the modifications remain in accordance with the initial brief.
Preview
Before the site is dispatched to the coding and development team, we will let you experience a full-fledged preview of the end product. We will let you preview the design across multiple devices and browsers, and are always ready to accept constructive feedback until we meet the goals.
Why Choose Us
Trisec delivers websites that are professionally designed to your exact specifications at competitive rates. We know how to keep visitors hooked with amazing graphics and keep them absorbed in your pages by making it simple for them to discover what they want. We also know what it takes Google to reward your site with a positive user-friendly experience. Whether you want to convert leads, get banner clicks, make sales or boost traffic, your website will be designed to meet your objectives.
A high-performing website designed by our professional team can also facilitate conversion. Conversion is especially important for e-commerce or lead-focused websites since a minor shift will make a huge difference. For instance, a website with a conversion rate of 1% that jumps to a conversion rate of 2% is an impressive 100% increase in the sales funnel conversion. Hopefully, this illustrates the value of collaborating with our web designers.
Once you mark your presence in the digital world, you should also consider ways to boost your presence and get known by a wider range of people. At Trisec, we provide ninja digital marketing techniques that can be used to maximize traffic on your site. If you are interested in learning about how your company can profit, please contact our team of experts.
Our Mission
Turning cutting edge concepts into reality with the sole purpose of achieving business goals and making for an improved user experience across all screen sizes. We strive to bring your brand to the forefront of the digital market, where you enjoy a competitive edge by being too AWESOME!
Interested in making a visual impact with your brand? Contact us today to get your quote. Our website design service will tick all the right boxes to design a website that is a complete buffet of goodness.
Project Planner
To help you give you the most accurate quote possible, we need some project details. The more in depth the more accurate we can be!